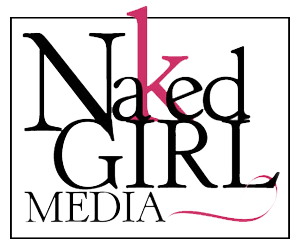 Last week when I announced completion of a new site on Facebook, I stated I felt a bit like the shoemaker's daughter. Being so busy working on client projects, I had no time for my own. So, after over a year of running a full-service digital media agency, Naked Girl Media, I finally built a site for my business.
I am happy to have the site completed, and to be able to share it with my readers. I am still tweaking it, but feel it is ready to share with the world.
What I think stands out the most of the new site is the beautiful logo, which was then used to create the masthead. Ryan, from Ryan Salinetti Creative, is the genius behind the design. She was wonderful to work with again (Ryan designed the Studio30 Plus logo and masthead as well). Ryan was patient, creative, and insightful–especially when working on the business card design and content. The challenge working with Ryan is always the same–narrowing the options to just one of the several creative designs. Please consider contacting Ryan for your next graphic design project; you will be amazed at what she can create for you. Visit Ryan's design website to see for yourself.
As for Naked Girl Media, please stop by to visit, check out the services offered, and let me know what you think.