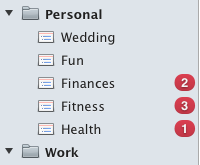 Fun.
That's the new project in my OmniFocus task management system. It might seem sad that I had to add a project to have fun, but it's a way to ensure fun activities don't become lost in a sea of business and personal responsibilities. The goal is to have even more fun than I do now, not add fun for the first time.
The project folder doesn't contain everyday fun like playing games with my kids or watching a movie with my fiancé. Instead it holds tasks to complete like putting on the calendar seeing a museum exhibit that is only in town for a month or booking a reservation for an activity for Sean and me. My fun folder holds all the things I would not normally take time for myself to do.
This catch-all place for fun has quickly become my go-to place to write a note to myself about a book I want to read, a restaurant to try for the first time, or a reminder for concert tickets going on sale. Just as we capture to-do tasks for home repairs, cleaning, bill paying and appointment setting, so too should there be a way to capture fun ideas we read or hear about from others.
Last year I accomplished a lot in my life that made me happy. Many of the fun goals I set, though, were abandoned for other important areas of my life. My hope in 2013 is to have another great year, but with a little more fun sprinkled in.
How do you ensure the fun, just-for-you activities happen?
Please share!