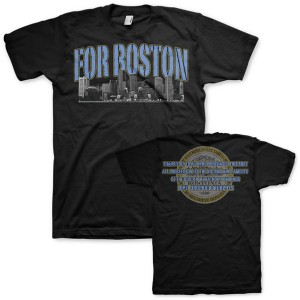 Huffington Post is calling the Boston area a war zone, more are dead, and terror is now taking hold of the residents in Watertown. Before learning about what transpired overnight in Boston, I had thoughts of a happy, uplifting song for Song of the Week. But after learning of the early-morning events, and a story about the band Dropkick Murphys, I knew the song for today: "I'm Shipping up to Boston."
I think most would agree they feel helpless. We can pray, send money, and simply hope no more lives will be lost before the final arrest is made.
The band members in Dropkick Murphys decided they could do more to help the victims of the Boston bombing. The story about the band shines bright when everything else in the news is so dark and disturbing. Their gesture to help is an example of what I mentioned earlier this week: my focus on the bombings would be only on the good deeds, kind gestures, and heroic actions of ordinary citizens doing extraordinary things in the face of a tragedy.
What I read this morning about the band Dropkick Murphys is a perfect example of a few making a large impact in an otherwise bleak week. Dropkick Murphys' band members decided to have a t-shirt made to raise money for the Boston bombing victims. Within 15 hours of announcing pre-sale orders were being accepted, the band raised $65,000. Visit this site to purchase one.
I cannot imagine what life has been like in the Boston area this week. My heart goes out to all who have been affected by this act of terrorism. My hope is that we all experience peace this weekend, but especially those in Boston.
As promised, here's "I'm Shipping up to Boston" for the Song of the Week this week: