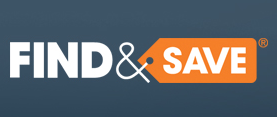 Sean and I have a busy life with work, five kids between us, a new home to decorate, and a wedding to plan. So last weekend when Sean brought up we should be Christmas shopping now to keep holiday craziness to a minimum, I immediately wondered how we would find the time. I have never been a fan of waiting until the last minute and then looking for just anything to wrap; I take my time and make, what I think, are thoughtful decisions. Thinking about that last statement, that might be why Sean wants me to start now; it will save us both from the stress of me over-thinking each gift and feeling rushed.
This week I was introduced to a website that might solve my Christmas dilemma, but also help from a time management perspective for other things I need to buy. And to make it even better, I save money. Find & Save is a great site that allows me to search by store, category, or brand. I can also see community favorites (what is popular with others in my area). The site pulls together sales in the area so that I can view, not just the tree pruning tool I need, but which stores have a great sale on them (Lowes) and for how long. How great is that?
I can share my Find & Save lists with others, too. Sean is able to view what I have put on Christmas list, which will help us coordinate holiday shopping. I can also block people from seeing a list (like my Christmas shopping list with items for Sean!). So far I have lists for Work, Home, and Christmas.
I recommend you check out Find & Save's site, their app for your mobile device, and start your own lists!
Disclaimer: While this is a sponsored post, my thoughts and positive comments about Find & Save are my own. Oh, and if you want to buy your favorite blogger a present, the tree pruner is still on my list.