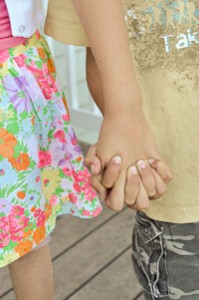 My first anniversary gift was an eight inch Henckel knife. I remember my soon-to-be ex laughing, telling me it wasn't a good idea to buy your new wife a knife for your first anniversary. "Don't you want something else?" he asked. I explained that I really wanted the knife so he bought it for me. Nineteen years later, I still have this knife.
Our ten year anniversary was special. Princess Daisy was eight months old and we were enjoying all he wonders of being new parents. We had started a company together three months before our anniversary and were happy with the early success. We went out to dinner, talking incessantly about Princess Daisy and our company. We were proud of both. My soon-to-be ex surprised me with a beautiful bracelet at dinner. He thanked me for bringing Princess Daisy into this world and for the support of his professional endeavors.
The fifteen year anniversary we attended a parent's meeting for our kids' Montessori school instead of going out. I asked that we not exchange gifts that year because we were about to pay tuition for two children to be in Montessori, close to $2000 a month, and I was worried about the financial commitment that lay ahead. The year before we had separated for three months and the relationship still didn't feel right for either of us. School commitments seemed to be an easy excuse for both of us.
These are the only three anniversaries I can remember. The rest are a blur. There were several years we forgot our anniversary, with one of us realizing it a week later.  Like the knife, maybe this was not a good sign for our future together.
Yesterday I  hired a new attorney, hoping he can bring creative solutions and a fresh perspective.  I shared the update on my legal representation with my soon-to-be ex yesterday as well. It seemed to unnerve him; he is worried things will escalate as a result. Several times on the phone my soon-to-be ex said, " I would sign papers tomorrow if I was comfortable with the terms."  We talked three times yesterday at length and one thing resonated for me:
"I would sign the papers tomorrow."
Tomorrow is here.
It's our twenty year anniversary.
I am not sure he even knows it is our anniversary since so many years it was forgotten, but I remember this one.  It is big and on the eve of this marital milestone, he flippantly stated he would give me the one thing I want most from him. And yet, he won't. it won't happen today.
But there will be a celebration.
During the day my kids and I are visiting with two old friends, RE and RB. The kids are excited to see my friends' kids and to ride a ferry on the trip there and back.  I am excited to give RE and RB a big hug and thank them for being in my life all these years. These ladies have been in my life for seventeen of the twenty years I have been married. Ten of these years we vacationed as couples and then as families. We experienced married life together and now, many years later, they are supporting me through the divorce.
This evening I have a big date. AC and I are going out to celebrate. AC and I met only eight years ago, but she belongs in the posse with RE and RB; she is one of us, just missed out on the early years. She is such a special friend.
And there will be gifts.
RE, RB, and AC will all be receiving twenty year anniversary gifts from me today. These three ladies are my closest friends and have been here for me every step of the way. Newlywed,  miscarriage, babies, work stress, financial challenges, career changes, financial success, marital strife, medical challenges, separation, reconciliation, and now divorce. I know these ladies will be here for me in the next twenty years of my life. Today I am celebrating their friendship.
I hope I remember this day forever. I hope that each August 24th I can wake up and silently thank the man I was married to for twenty years because he gave me gifts I will enjoy the rest of my life: Princess Daisy and Monkey. For that, I will be forever grateful.
And of course, I do still love my knife.