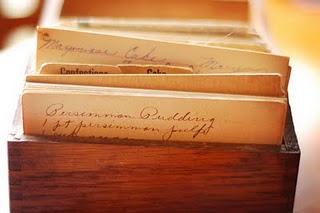 My sister was recently looking through our late grandmother's recipe box. In between the recipes for blueberry muffins and chocolate pound cake she came across a different type of recipe; my sister found a recipe for a happy life. Written in our grandmother's handwriting, this is what my sister discovered:
THE WAY TO HAPPINESS
Keep your heart free from hate, your mind from worry
Live simply, expect little, give much
Fill your life with love
Scatter sunshine
Forget self; think of others
Do as you would be done by
My sisters and I received many gifts from our grandmother over the years. To have discovered this recipe for life she inadvertently left behind for us is especially poignant; it has only been a few months since she passed away.
Thank you Gram, for these words of wisdom.