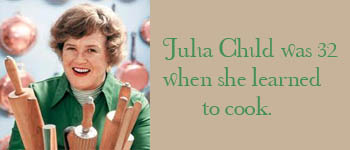 Starting over.
Learning something new.
Choosing a different path to follow.
These are all terrifying concepts. There is comfort in making excuses for being stuck in one place; less risk is involved.  It is much easier to remain mired in a variety of ways, whether emotionally, professionally, intellectually or physically.
The first step is to break through "can't." By removing "can't" from a sentence and inserting "don't want to," "not willing to," it starts to feel uncomfortable. The statement now becomes an excuse. For example: "I can't write a book" becomes "I don't want to write a book." "I can't train for a 5K" instead can be stated "I am not willing to train for a 5K."
The second step is to create actionable goals and a deadline. Now that it is understood with passion and a belief in one's self, anything is possible, figure out how to accomplish it.  Create the small steps to accomplish the goal and set a deadline of when it will be completed.
The third step is to do. Believing that it is possible and having a plan mapped out leads to making it happen.
These steps might seem over-simplified or unrealistic, but I know it is not. Anyone can learn something new, create something beautiful, lose weight, become a better person, write a great novel, or find true love. I don't just believe this; I know it to be true.
Here are a few real-life examples of inspiring women who knew this too:
Julia Child learned to cook at the age of 32.
J.K. Rowling, a penniless, single mom, completed the first Harry Potter series manuscript on an old typewriter at the age of 30.
The artist Grandma Moses started painting at the age of 70.
Laura Ingalls Wilder, the author of the Little House on the Prairie series, began writing at the age of 65.
Remember:
It is never too late.
Limitations are self-imposed.
Post inspired by Choose Happiness.