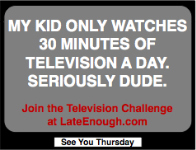 Alex at Late Enough threw down her gauntlet and I picked it up, accepting the challenge. Yes, I will be kicking her sorry ass in the ultimate competition. It's the my-kid-will-watch-less-TV-this-week-than-your-kid challenge. Take that Alex! You are going down sister!
No, I am not competitive at all.
Ok, so maybe Alex and I aren't really knights and this is not Medieval times (the gauntlet reference people). Well, and it isn't a challenge against each other. At least that is what Alex thinks.
The challenge, for anyone also brave enough to accept, is to spend quality time with your kids for the entire month of July. Alex is calling it a Television Challenge. What exactly does that mean? It means you limit the amount of TV viewing for the entire month of July.
Are you up for the Challenge?
If so, go to Alex's site and grab the HTML code so you too can proudly display the Badge of Courage on your blog.  Alex's site will be our meeting place to comment on our progress. And, of course, blog about the experience to your readers. No blog? No problem! You can write on your Facebook wall or tweet about your experience.
I am pretty sure we are going to win to do well. It might be tough though.
My daughter doesn't watch that much TV, but this challenge could pose a problem for Princess Daisy when she is "bored" and there is "nothing to do."  My son never initiates watching TV, but, evil mother that I am, I have added the stipulation that Wii is included in the 30 minutes a day. This will wreck my son's life. If Monkey shows up on your doorstep, suitcase in hand, and tells you how I beat him and never feed him, don't fall for it. He is lying to you so that you will call Protective Services.  It will be a cry for help so that someone will save him from the Wii-free home he will be living in for the entire month of July.
As soon as I wrote my enthusiastic comment on Alex's blog about taking this challenge and hit send, I had a moment of panic. I almost wrote Alex back to ask if watching MASN channels (professional baseball) didn't count. I am assuming, since Alex didn't list out specific channels exempt from this challenge, that MASN is part of this challenge. It really doesn't seem fair to me because I don't watch TV. I don't even know what TV shows are on TV. I only watch MASN. Doesn't it seem like I should get a special waiver? Whatever. I will be able to handle this.
Don't be a wimp. I need more competition than more support from others than just Alex.
Sign up today!
Check back each Thursday in July here and at Alex's blog to see who is winning how we are all supporting each other.
Oh, and if you need support, my post on creating a Family Summer Activity List might be helpful.