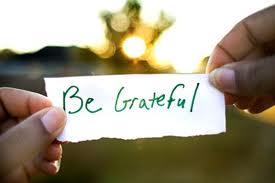 "It's not what you look at that matters, it's what you see."
~Henry David Thoreau
Right now many people on Facebook are posting daily what they are grateful for during a 30-day period. This is a wonderful concept, starting a daily habit to find the good in life. I believe it should not be done for 30 days a year, but daily. For one simple reason:
Gratitude is the easiest path to living a happy life.
During the most challenging times in my divorce process, I focused on being grateful daily. With mounting legal bills, at times acrimonious mediation sessions, financial uncertainty, and more, this was a difficult task many days. But I accomplished it each day.
Some were small moments: Monkey turning back towards home on the way to school simply to give me one more hug. Other days I was grateful for family-focused activities at night. My gratitude was found in kind gestures from neighbors, knowing I was struggling with our life change. Any day I ran on the canal on a beautiful day brought feelings of appreciation. Wherever I looked, as long as I paid attention, there was something to be grateful for daily.
Working hard to find the good in each day for an extended period of time has led to a happiness that is not fleeting. Difficult times come and go, but my overall perspective gets me through the challenge each time. Gratitude is the key to that success.
Do you find this to be true in your own life?
What are you grateful for today?