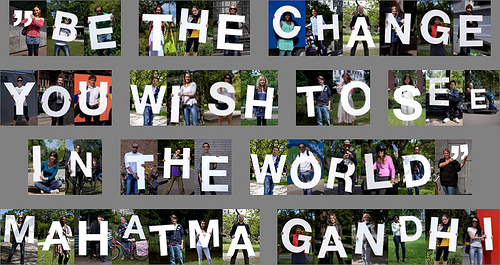 There is an unprecedented amount of passion surrounding the presidential election this year. Spend five minutes on Facebook for confirmation. There's an endless stream of politically-oriented postings, and vitriolic dialog erupting regularly. Some posts are funny, while others are hateful. A certain percentage are factually correct, while the remaining are inaccurate.
The emotional frenzy over this particular election is for one simple reason:
Change
Healthcare, environmental issues, national security, marriage equality, education, women's issues, unemployment, and the economy are some of the big issues of the election. People want change in so many areas this year.
Much is at stake for the nation in 2012. What happens next, though? I have a suggestion:
Be the change.
Don't wait four more years, seeing the process of voting as your contribution to change. Do something. Take your passion off the internet next Wednesday, and make a difference in the world.
"We ourselves feel that what we are doing is just a drop in the ocean. But the ocean would be less because of that missing drop."
~Mother Teresa
If I haven't inspired you, maybe Kat Edmonson will. Here's "Be the Change" for Song of the Week:
httpv://youtu.be/nrv3hteHglI
Image Source