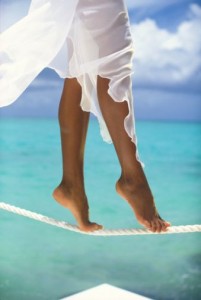 Last year I wrote an anti-New Year's resolutions post. It was about picking fun goals to focus on, and enjoying the year. The idea was to not create a list that is frustrating and impossible to achieve. Even with a fun list, I wasn't able to accomplish most of my goals though. For one simple reason:
Balance.
Or lack thereof, actually. I created fun, but aggressive goals for a single mom who has a son on four baseball teams throughout the year, a daughter in tennis and violin, a house to maintain, and, of course, work. As a recovering Type-A personality, balance isn't something that comes easily to me. So, swinging radically in the direction of fun seemed to be a great idea at the time. I still maintain having a New Year's resolution list that excites and energizes with fun goals is better than the unrealistic lose-100-pounds-in-30-days idea of goal planning though. The list just has to contain a more balanced plan.
Looking back at the list from last year, I am not being hard on myself for the number of goals that were not achieved. The reason I am being kind to myself is because I also chose three words to focus on throughout the year: focus, achieve, patience. That last word is the reason for the kinder-than-normal view of myself when I feel like I failed. I am being more patient with myself, and understanding my limitations, which I plan to continue into 2013.
My three word for 2013 will be:
Balance (not a surprise, I bet!)
Patience
Focus
I believe my ability to achieve goals in my personal and professional life will be a natural by-product of my focus. Balance will allow me to accomplish in various areas of my life, and be a lot happier. As I shake the overachiever tendencies in me, patience will need to remain as a word again this year.
Of the two New Year's resolution approaches, the three words was the most successful. I don't plan to give up on my fun goal planning though. Like my three words, I just intend to add a bit of balance.
What goals are you setting for 2013?
What three words will help shape your year?