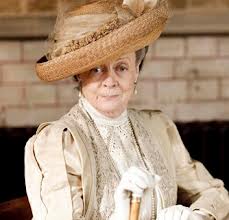 It's a cold, grey, rainy day in the D.C. area today. This means that even though it's National Margarita Day, I will not be going to my favorite Tex-Mex restaurant for Swirls tonight (frozen sangria and margarita layers in one fabulous drink). Yes, the weather is that dismal.  Or I am a loser. It could be the latter, but I have an excellent excuse; after a long work week and a five-mile run this afternoon in freezing rain, I would like nothing more than to curl up by a warm fire this evening in sweats with my awesome guy and two of our kids.
So what do over-worked losers like to do on a Friday night when they choose not to indulge in margaritas, but stay home instead?
That's simple: challenge their fiancé to a Rummy tournament and have a Downton Abbey marathon. It's such a great idea; there's a chance these activities will continue Saturday night, too.
Not that it takes much to get me in the mood for the awesome Dowager Countess of Grantham, Lady Mary, and the rest of the characters, but here's a new video of Downton Abbey cast "performing" One Direction's "What Makes You Beautiful." It's almost as awesome as the Dowager. Almost.
Happy Friday!
httpv://youtu.be/0TegWM9Z8Jc