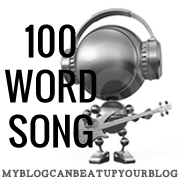 My romantic relationships have always come with expiration dates. I can't always clearly read the date or know the circumstances, but each will perish.
This isn't the healthiest way to start a relationship, searching closely for a date stamp. There will be new beginnings and I should expect some endings, but when the right man comes my way, I need to be open to forever.
I haven't been able to avoid "the end" yet, but I think the answer to forever lies in between the beginning and end; it will come from loving and living each day in the middle.
~~~~~~~~~~
This week's Song of the Week is in response to my friend Lance's 100 Word Song challenge. He provides the song, and each writer has exactly 100 words to write about the inspiration from the song. This week's song: John Legend's "Everybody Knows."
This exercise started out with an idea to write a 100 word poem for this challenge, and ended with what you just read. This exercise was maddening, which is why I will do it again; it's a great stretch for me as a writer.
Thanks for hosting this each week, my friend!