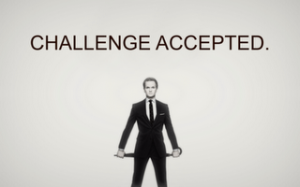 Tenacious.
That's one adjective a man used to describe himself to me on a first date a month ago. I thought I understood the definition of tenacious before I started dating him, but he has shown me I really didn't understand the meaning.
Tenacious is when a man is interested in a woman, but is unflappable when she states she is a serial dater with no interest in a serious relationship with him. He responds by telling her it is best she take her time and date as many men as she needs because when they are in a serious relationship, he wants her to be through that phase and solidly committed.
Tenacious is when a man is not able to be persuaded to date other women even when the woman he is casually seeing offers to email him good prospects from online dating sites. Instead he tells her he is only interested in her, but thanks her for offering to help.
Tenacious is when he doesn't shift in his desire to pursue her even though she tells him every bad decision she has made dating in the last four years and sends him less-than-flattering blog posts about her love life as further proof to dissuade him. Instead of shaking his resolve, it leads to him telling her she can spend her energy trying to convince him to back down or enjoy each moment they have together, but that there is nothing she can say to change his mind.
Tenacious is a dialog that looks like this:
Me: "I can guarantee I will almost definitely be ready to possibly be someone's girlfriend by Thanksgiving."
Guy: "Is Thanksgiving the second weekend in September this year?"
Yes, I did learn the true meaning of tenacious in the last month. I also discovered I have no superpowers to protect myself from an intelligent, handsome, funny, interesting, loving, tenacious man.
It's best to concede to his persuasive ways.
Which I did.
And I am happy.
Image Credit