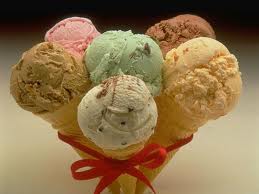 Good thoughts.
It is that simple. Or so my son told me recently. As we were driving, out of nowhere, my son announced:
"Good thoughts make good things happen."
It's simple, but also true. I have written often about seeking the positive in challenging situations and that our perspective guides our own happiness. We shape our outlook on life. We can choose to be martyrs or victims, but we can just as easily choose to be happy and fulfilled.
As much as I enjoy comments from readers telling me something in my writing resonated, it is most rewarding to know that how I live my life is having a positive effect on my children. Monkey understands that we can control our happiness with how we view life. I felt like I earned a gold star as a mom that day.
And, true to any eight-year-old boy, he chose to test out this belief the same evening he made this wise statement in the car. After dinner he asked if we could go out for ice cream. "No," I said, "We have a lot to do this evening before bedtime. Maybe this weekend."
With the look of disappointment Monkey explained that he had been thinking good thoughts about ice cream all day, hoping it would work.
My response?
We were going for ice cream, of course.
Maybe I got played, but I like to think he learned that being positive has many rewards in life, including ice cream.