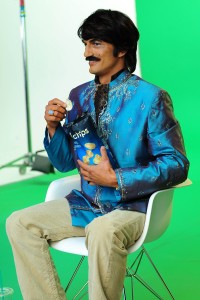 I find it ironic in a week that I am working on a piece for my blog on hate (in any form), that I find myself as one of the many "start-ups" being slammed for trying to help PopChips go viral with a video advertisement. It is also frustrating to me that the firestorm is even brewing over the "dating site" video clip. I am sure my opinion will probably get me a lot of hate emails and comments below, but I have to comment.
The backstory on the campaign: An agency that represents me and a lot of single bloggers approached us about a viral video campaign. All we knew was that there would be an A-list star and the video would be for a product promotion. All details were kept quiet until the launch date. Yesterday we were sent the video with the expectation to write a quick, brief post and embed the video. That's it.
It is a parody about the online dating world. It poked fun at the "great" catches that can be found on these sites. PopChips accurately portrayed what it is like perusing through online profiles. It made me think about what it was like reading first emails from these guys and meeting some men for the first and only time. Focusing on my dating experiences, it made me laugh.
The controversy with the campaign: One of the four characters Ashton Kutcher plays is Raj, an Indian Bollywood producer. For this character Ashton was made to look Indian, which included brown make up. He spoke with an accent too.
Unless I missed something, there was nothing that was said by the character Raj that was an ethnic slur or stereotype. As for the make up (one of the complaints), the Oscar award-winning make up artist who created all the looks, did a great job to help Ashton get into all his characters, including the biker tattoos he had as Swordfish.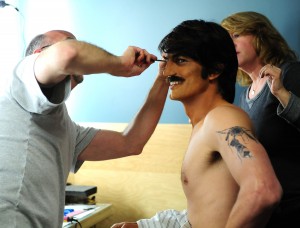 Another complaint I continue to read is that people are angered Raj said he wants someone "Kardashian hot." But each of the characters portrayed rattled off what they are looking for in a woman. Would it have been less offensive if Nigel said it? What about Darl?
Hopefully biker guys, Karl Lagerfeld's family, and yogi-loving dudes don't join in to say they were disparaged too. Maybe women should be offended because we were objectified in the video and men should feel put off because it is an unfair representation of their gender on dating sites. Or maybe all of us who have used a dating site should be upset because they are making fun of our method of meeting people to date. Let's all find something wrong with the video because there is so much to over-analyze in this roughly 2 minute video clip.
What about Eddie Murphy, Wayans brothers and so many outrageous stand-ups? These comedians intentionally stereotype and cross lines for a laugh. If one is to become offended by comedians, their routines and race-changing make up techniques would be a much more egregious offense than Ahston Kutcher making this video.
This isn't a defense, but rather me simply stating there can be a hypersensitivity to things that are not issues when there are more serious problems in society that need addressing. Hopefully this apology  from Keith Belling, the CEO of PopChips will let this die:
"Our team worked hard to create a light-hearted parody featuring a variety of characters that was meant to provide a few laughs. We did not intend to offend anyone," he wrote. "I take full responsibility and apologize to anyone we offended."
For the two readers I will have remaining after writing this post, I hope you will visit next week when I publish the piece on hate in which I  opine on the need for tolerance, education, and acceptance for all people–which now might need to include comedians.