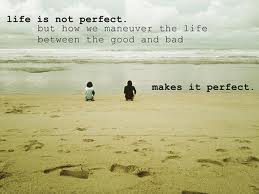 Most of us don't experience significantly sorrowful or joyful days daily. We mostly live the life that is in between. It's best we live in this space because having extreme events or emotions daily–good or bad–would be exhausting.
Grey skies lead to a focus on surviving the difficulty. We dig deep into our reserves to live courageously through a challenge. Conversely, the intensely sunny days need to be embraced and appreciated, knowing each day can't possibly be this bright. Soaking up the sun helps us find that reserve on the cloudy days, too.
But what about the in-between days?
Most days we wake to a busy morning preparing kids for school and ourselves for work. We have hectic workdays with little time to even eat lunch. There are after-school activities for our children. Dinner needs to be prepared. Laundry might need to be tackled. Hopefully there's an opportunity for us to squeeze in some "me" time in the busy day, too. We go through the motions, getting through our daily routine and checklists. As our head hits the pillow, we assess all that we accomplished in the day, drifting off to sleep as we decide what needs to be accomplished the next.
Knowing these in-between days are what fill up most of our lives, how are we living them?
Are we finding joy in the goodbye hug at the door as the children leave for school?
Does our mind wander or are we fully present in the moment when we discuss the day at the dinner table?
Is there laughter?
Are we smiling?
Are we happy?
Find the small joys and gifts in those in-between days.
That is where enduring happiness is found.
Note: Today's post was in response to a writing prompt at Studio30 Plus: Grey Skies.