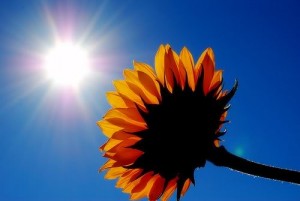 Just a few weeks shy of the one year anniversary of my divorce, I have been thinking of the good fortune that has come my way after a long, dark period. The storm I weathered in the last four years was the most challenging in my life to date. There were days I felt so overwhelmed by the sadness and fear of the unknown. The fear was paralyzing and the sadness was oppressive.
But what I know about life is the sun always comes out again.
Some choose to focus on the aftermath of a storm, but I always pay attention to the return of sunshine. When it does begin to shine again, I revel in the warmth, brightness, and the beauty that is more pronounced in the light.
Most days, though, are not one of two extremes: a significant storm or a perfect, cloudless day. It is important on those days to find a ray of sunshine. It might peek out for a fleeting moment, but it's always there if you look hard enough.
Be ready.
See it.
Embrace the moment.
httpv://youtu.be/J955oiLnB4g
Happy Friday!