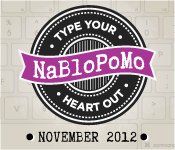 I am crazy.
ALL CAP, italic, and bold kind of CRAZY. 
It would be crazy to commit to National Blog Post Month (NaBloPoMo), writing a blog post each day for the entire month of November. With laundry always getting the best of me, a house that always has a home repair project waiting to be tackled, and a training schedule that needs to be revived, I have no room for something extra in my life. Challenging myself to a daily writing commitment would be insane.
But I am going to do this.
I have 79 drafts saved in WordPress. Some only contain an inspiring quote, while others have hundreds of words waiting to be massaged into a final post. There are sticky notes with ideas adorning my office wall, and a grease board filled with even more. Writing inspiration is overflowing, while the commitment is lacking. Not because I don't want to write, but rather because work-life balance is always a challenge.
After visiting MommyNaniBooBoo today, I found the courage (or lost the last bit of sanity I was clinging to) needed to commit to writing daily. Here's what Jenni said about NaBloPoMo:
"My youngest is teething and not sleeping, the Holidays are coming, and we're in the middle of buying a new home and packing up our family for a move.  I totally have time for this."
She also promised some days there would be "word vomit" waiting for her readers, which gave me even more confidence I could take on this challenge. I can produce word vomit, too!
As crazy as I feel for committing to publishing daily this month, at least I am not this kind of crazy: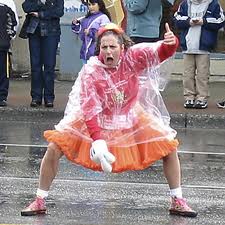 I hope you will join me each day this month; I promise to keep the word vomit to a minimum.