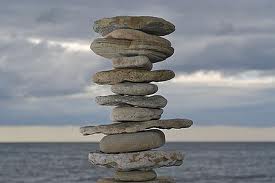 In the first ten weeks of this year, I have worked hard to acquire new clients, successfully complete work for clients, write here, work towards greater visibility and membership for Studio30 Plus, and have taught a lot of classes. In that same period of time, Sean temporarily moved in with us, and we have focused on successfully blending our family of five kids. And I have been training for a half marathon. It has been a lot in a short period of time.
Through it all, I have been focused on trying to keep a balance with work, family, and life. Until recently, I have felt successful.
"Happiness is not a matter of intensity but of balance and order and rhythm and harmony."  Thomas Merton
Discovering proper balance again came in the form of a pediatrician's appointment. Yesterday I was not able to work a full day because Monkey had a doctor's appointment. It resulted in a nice lunch out with him, having his company as we ran a few errands, and attending his appointment. What I realized was I needed more time with the kids–I have missed them these last few days I have maintained an intense work schedule. As a result, we had a family movie night last night. And today I am running regardless of my "to do" list. This is what I needed this week to feel a bit more in balance again.
It's difficult as a working parent to find balance. I struggle with it each week, feeling I didn't give enough on the work side or on the family side; there's always guilt and a tug in one direction or the other. What I am learning, though, is to be aware and adjust in the moment, if possible. If there's a big deadline looming, schedule the family (or running) time as soon as possible. Staying ever mindful seems to be the key.
How do you juggle all of your life responsibilities?
Please share below!