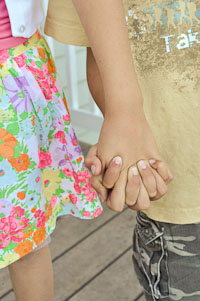 Schmutzie, blogger and web designer extraordinaire (she created this site's masthead), recently wrote a post with the five best decisions she has made in her life. It was a great piece that was actually inspired by Karen Walrond, who tweeted her five best decisions.
Late last night after I read Schmutzie's top five, I started thinking of my own list. My list didn't come together as easily as it did for Scmutzie, but by the middle of my morning run today, I had the fifth one worked out. Thinking this out and writing it down was a wonderful exercise. It has been a frustrating week for me for several reasons so going through the process of listing good decisions I have made helped with what I have been dealing with this week.
My Five Best Decisions in Life
1- Marrying my ex-husband- Without this relationship I would not have my two children. We have run a company together for the last 11 years and continue to do so divorced. While we had our moments in divorce negotiations and in the marriage, we have settled into a nice friendship and co-parenting relationship. The life I have right now, which I am incredibly grateful for, would not have been possible without the life experiences over the past 22 years which included my ex. For all of these reasons, I know this was a great decision.
2- Divorcing my ex-husband- Maybe this seems contrary to #1, but I believe these two decisions belong on the list. This was the hardest decision I have made in my life, but it was the right decision, not just for me, but for all four of us. We are all in a better place individually as well as the relationship dynamics within our group of four.  For me personally, Naked Girl in a Dress was born; I enrolled and graduated from a photography school; and I am simply a happier and more fulfilled person.
3- Starting to run- I have been an athlete my entire life, but always avoided running. It seemed boring and mindless. My ex and I each owned a business (and I was working in both of them), we had a 3 1/2 year old, and a newborn when I realized I needed a quick and efficient way to workout. Begrudgingly I started to run. It was torture at first, but I built up my fitness level and found myself running a 1/2 marathon soon after starting to run. Injury led to cross-train in other sports, which led to duathlons and triathlons. In good times and bad, running brings me peace. I enjoy the company of a running partner as well as solitude on solo runs. Having the ability to run and be at peace in nature is one the greatest gifts.
4-Deciding to be happy- I live my life believing happiness is a choice I make for myself. It is not a fleeting emotion in my life as a result. While I am not perpetually happy, I try to make this decision daily.
5- Hitting the Publish button in WordPress- I knew this was something I wanted to do, but I was terrified to start. Making the decisions regarding the site and actually beginning to write took over a year. It was procrastination at it's best. Once I had run through the excuses of needing to research blogging, blog platforms, blog theme, design, and more, I simply had to start writing. I remember feeling nauseous each time I hit publish and editing published pieces over and over again. While Naked Girl is about redefining life at any age, this site has played a big part in me redefining my own life as well as rediscovering my love of writing.
This was a wonderful exercise for me. I encourage you to share your best decisions in a comment, write them out privately, or write your own post. If you do post on your blog, let me know so I can stop by to read.
Since today is about making good decisions, I am choosing Mat Kearney as Song of the Week. Adding Mat Kearney Radio to Pandora was a great decision I made earlier this year. I enjoy his music, but have been introduced to many artists I would not have known about had I not added his station. While it wasn't the best decision in my life, it was still a good decision. Enjoy "Hey Mama."
Happy Friday!