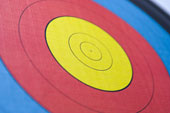 Last Wednesday was Parent's Day at my son's all-boys camp. On Parent's Day we have the opportunity to attend camp with our kids for half the day. When we moved from Arts & Crafts to Archery, the boys became really excited. We were able to watch the boys shoot first and then our sons would teach us to shoot. While waiting for my son to teach me to shoot, I could not help but overhear a conversation taking place next to us.
Here's the exchange with a boy and his parents standing next to me after the boy finished shooting:
Horrible Mother (HM): "Why didn't you do well?"
Son: " I don't know."
HM: "Did you see the boy next to you? He hit the target 3 times."
Son: "He's the best in our group mom."
HM: "Why aren't you the best in the group?"
Son: "Archery isn't easy Mom."
At this point I worked up the nerve to look in their direction. I had not looked in their direction because I don't have a very good poker face. HM would know exactly what I thought of her and if she made eye contact with me, I knew I would jump in to save the boy from the situation. This would involve me giving his mother my opinion on her parenting.
What I saw was shocking.
Horrible Mother was having this conversation with her son without even making eye contact with him. She was texting on her Blackberry while criticizing her son on his lack of archery abilities. Dad was texting too. With my mouth agape, I continued to listen and watch this interaction.
HM: "Do you even know what you are doing wrong?"
Son: "I guess not."
HM:"Well, ask one of these counselors to help you. That is why they are here."
Son: Boy starts to cry…
HM: "Stop crying. We don't cry."
Dad: "You are good at everything. What happened today?"
HM: "Yeah, you are good at everything."
Son: Sobbing now…
HM: "What did I tell you about crying?"
Thankfully I had a diversion and missed the rest of this exchange. It was my turn to shoot. HM and her husband didn't want a turn (of course) so their son just stood with his parents.
My first thought was to kidnap the child and raise him as my own. He would be happier anywhere other than his own home. He would probably willingly come home with me at pick up; no promise of candy would be needed to lure him in my car. He might not like the Television Challenge happening in our home in July, but overall he would be a happy child. And, for the parents, they probably wouldn't know he was missing. Or they would be relieved.
Being opinionated is a terrible trait that I have. And, as an elementary school teacher wrote on my report card one year, "Kelly is a champion for the underdog." This has typically been to my own detriment. Like wanting to steal children from people as a result.
Maybe if I verbally accosted the mother, threw her Blackberry on the ground, stomped on her phone, and then told the little boy that his mother was wrong about everything, I would feel better today. However, as I have matured, I have realized I am not that child in elementary school who can insert myself everywhere as a perceived savior. It is simply not my place. That said, my self-control last week has cost me peace of mind. I am still worrying about that little boy.
Last week I didn't do what I wanted to do; I wanted to draw back the bow, set HM in my sites, let pointed words fly off my tongue, heading straight to the intended target. Maybe the mother would be a kinder, gentler mom today if I had explained to her what she was doing to this little boy. Maybe if I wrote down the link to my Free To Be You and Me blog post, she would have read it. Maybe I would have shamed her into seeing her behavior as I did: despicable. Maybe the little boy would be happier today if I had said something to HM.
Did I mention he is just 7 years old?
Seriously.
What is wrong with people?