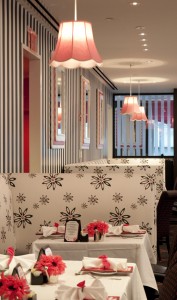 Sitting in American Girl Cafe waiting for our server to greet us, Princess Daisy spotted a bright pink box in the middle of the table. In it were slips of paper with questions. She loved the idea of taking turns posing questions, which started one of the most memorable meals we had in New York City last weekend. All of us enjoyed the activity, but for me, it was more than simply entertainment.
Becoming a family with children who are over the age of 10, and marrying a 41-year-old man poses similar problems; it means they have had many life experiences before coming into my life. The same challenge is actually true for all of us in this newly-forming family.
Taking turns answering the questions in the box last weekend was a wonderful way for us to begin to know each other on another level, and to aid in blending together as a family. Before our question-filled lunch last Friday, we didn't all know each other's favorite summer memory, the three famous people we would like to meet and why, or what we consider the hardest thing we have had to do in life. Having a box of questions allowed us to pick a topic and start a conversation that led to a greater understanding of one another.
Whether a family is coming together as the result of a second marriage or a family has teens who no longer want to speak much during a meal, having conversation starters in a box is an excellent family activity.
 It is a wonderful way to connect or reconnect as a family, and an activity I look forward to initiating again the next weekend the six of us will be together. This box of cards will be a great start for us:
Do you have any dinnertime activities that help you bond as a family?
If so, please share!