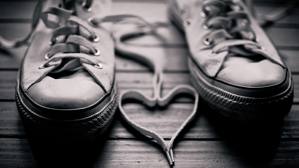 After dinner out with Sean last night, we went to see one of our favorite bands, Mumford and Sons, in concert. As the opening act was ending, and we waited for Mumford band members to take the stage, I felt an overwhelming amount of happiness and love. With his arms wrapped around me, I realized there could not be a happier or luckier woman in that stadium last night.
Sean is a wonderful friend and partner. The relationship we have is built upon a solid friendship and mutual respect for one another. And the list of common interests is quite long as well.
But best of all, aside from these wonderful things we share and experience together, he shows me his heart.
Every single day.
And that is the best Valentine's Day gift Sean will ever give me.
Ben Howard, the opening act for Mumford and Sons, has the perfect song for today: "Only Love."
Enjoy this week's Song of the Week, and show some heart today.
Happy Valentine's Day!
httpv://youtu.be/OWlKZ6C7cDY
[adsenseyu4]