"I am a feminist. I've been female for a long time now. I'd be stupid not to be on my own side."  ~Maya Angelou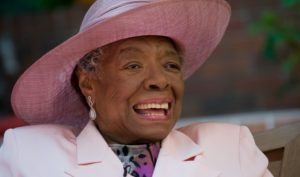 After the presidential election, I, like many, struggled. There were tears, fearful thoughts, anger, and more.
Two months later, I took a pro-active approach to inauguration day. Instead of sitting in a puddle of tears, I decided to spend inaugural night attending a special women's event held at a D.C. restaurant. There were eight organizations in attendance, all focused on different aspects of supporting girls and women through the process of running for office. Along with inspiring speakers and great food was the feeling of camaraderie among young girls and women.
I joined a table of women from different parts of the country and varied careers. Our small group included a college student, educator, and three female entrepreneurs. In between speakers, we had the opportunity to get to know each other, network, and share more about our professional lives. I thought I was with "my people," only to be shocked as our conversation turned towards hiring practices.
One woman at my table, with great conviction, was explaining to us what horrible employees single mothers made, and that she now has a policy to exclude single moms as candidates when hiring. The women at our table were silent as she continued to spew about her illegal hiring practices….except me.
My response went something like this:
"As a woman who started my company when I was a single mom, and as an employer who has almost exclusively hired single women, I disagree with you. Single mothers probably work harder than most, having the incredible responsibility of often supporting a family solely on their income or with some support supplemented."
-I was told I was able to successfully hire single moms because I live in a metropolitan city.
-Then it was explained to me that single moms have this sense of entitlement.
-My favorite excuse: I was educated on how difficult it was when a single mom called in because her son was sick. What an imposition! To quote this female entrepreneur: "I mean, am I supposed to do her work then?"
All of the female entrepreneur's reasons for illegally discriminating against women based upon martial and parental status were met with comments from me.
Points I raised:
She has illegal hiring practices.
I have never met a single mom with a sense of entitlement.
My employees mostly live outside the D.C. area so no "metropolitan excuse" could be applied to my team.
The conversation was calm and respectful, with both of us just trying to help the other understand our position. It ended politely, but with neither one of us shifting in our thoughts regarding her hiring practices.
A few days have passed, and yet I keep coming back to that conversation–no less frustrated than I was that night. Listening to a woman business owner explain her discriminatory hiring practices against women illuminated for me the extent of the systemic problem we have in this country. Men and women, but especially women, have to lift up and provide opportunities to ALL without discrimination. And we have to speak up! The rest of the women had the same responsibility I did to challenge what she was saying. Silence is often confused with acceptance.
Join me in supporting ALL people ALL the time, no matter how uncomfortable it is to call someone out. I know it's not easy, but it's our responsibility.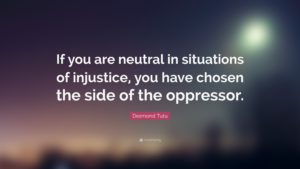 If you recently spoke up in support of a group of marginalized people, tell me about it below!