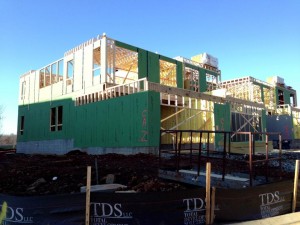 Before Sean and I met he had discovered a new community ten minutes from work and the same distance from his two youngest kids. The spacious, city-style brownstones are a short walk to the downtown area, featuring a grocery, movie theater, great restaurants, the gym he already belongs to, a wine bar, and lots of unique shops. The community is also near a great bike trail and the extension of the Metro in Virginia; it was perfect.
Enter Kelly.
Sean was still waiting for the particular lot he most wanted to open, hoping he would be able to secure it. By the time it was available, we were far enough into our relationship to give him pause. But we were not in a place relationship-wise where I felt he could alter his plans. When asked, I was always supportive of the purchase. It was what he wanted before we met, and, objectively, it was a perfect location for him. A few months after the deposit was made and the build-out design decisions were made, we became engaged.
Now what?
That's what we have discussed a few times in the last several months. What do we do about our living arrangement when we are married was an important decision to make as construction crews broke ground on a home we don't actually need. We ultimately decided to maintain two homes.
As complicated as my answer may seem to others, it was actually a fairly easy decision for us to make. It was simple because the decision was rooted in what is best for our four youngest kids. One to two school nights a week (it alternates every other week) his two youngest are with us.  We didn't feel it was fair for them to commute over an hour to school on those mornings. For my two, we didn't want to uproot them from a community in which they were raised. And, moving over an hour away from their father would mean no more weeknight dinners and a difficult schedule for their dad to attend weekend sports events.  My five-bedroom home could fit us all, and yet it would put an unnecessary hardship on our kids. That is something neither of us wanted to do, and why we made the decision we did.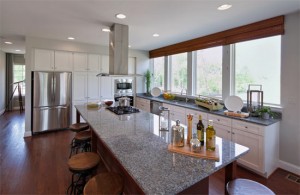 It will mean one or two nights a week we will be apart, but there are additional benefits to having this second family home. We both love the area and the brownstone. One of my closest friends (and Princess Daisy's lifelong friend) lives 15 minutes away. Sean and I look forward to interior design projects in the second home.  Cooking in the spacious, light-filled kitchen (see inset image) is one much-anticipated activity for both of us. Enjoying the cool mornings reading with a warm cup of coffee in front of the outdoor deck fireplace is another.
But I recognize it's complicated.
When asked about the wedding and our plans for the future, the assumption is always he will remain here or that I will move to Virginia. Maintaining two family homes isn't the norm. We accept that, but we also know what is best for us. "Us" being our family–not just Sean and me.
My wise daughter once said to me when trying to convince me it wasn't too complicated to rescue a second dog, "Mom, if you really love someone, you will figure out a way to make it work."
Sean and I love each other and our kids.
Complicated or not, this works for us.
Have you had to overcome a challenge or obstacle to make a relationship work?
If so, please share!
[adsenseyu2]