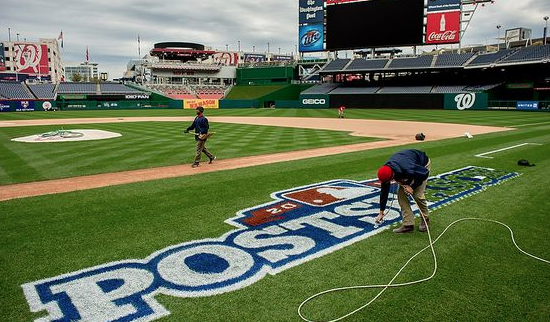 Sometimes people come into our lives who say they love us, and they genuinely mean it. And while we appreciate the sentiment, they love us in a way we don't want to be loved or that doesn't meet our needs. The realization–that we are loved in a way that isn't really nourishing our soul–is sad. Both people are trying, and yet it's not something that will be successful long term. At least, that has been my experience.
Why at this particular moment am I having these thoughts?
Because at 8:40 at night my husband is wall-mounting a television in my office so I can watch game 1 of the first post-season series for the Nationals tomorrow afternoon. This, to me, is my kind of love.
After a long commute home, Sean changed and started this project. The salad I made him for dinner sits half eaten as he works through finding studs, putting brackets on the television, and mounting. There was not a you-have-to-do-this-or-else conversation, and he is not complaining. Instead, he seems genuinely happy to be doing something for me. Not because I will owe him, but because he knows how much joy I will get from being able to watch afternoon baseball games. And that makes this wonderful man happy.
Sean loves me just the way I want to be loved. Whether it's hanging a television at 8:40 PM on a Thursday or wrapping his arms around me when I have a bad day.
Sean's love for me is just right.
What quirky way has someone shown you their love?
Share below!